Posted by Michelle Moquin on October 5th, 2014
Good morning!
"Just noticing…"
…October is Breast Cancer Awareness Month
Breast cancer is serious stuff but we don't have to be so serious to honor Breast Cancer Awareness Month. Hey, even theWhite House has been known to illuminate the cause.
The North Portico exterior of the White House is illuminated pink in honor of Breast Cancer Awareness Month, Oct. 1, 2012 (Official White House Photo by Sonya N. Hebert)
From the Huff Po. 
October marks Breast Cancer Awareness Month, and some individuals and organizations are going beyond pink ribbons to embrace out-of-the-box ways to stand up for breast health.
We've partnered with the makers of Genius 3D mammography to highlight six awesome ways people are doing their part to keep breast cancer a part of the conversation.
1. Check Your Puppies!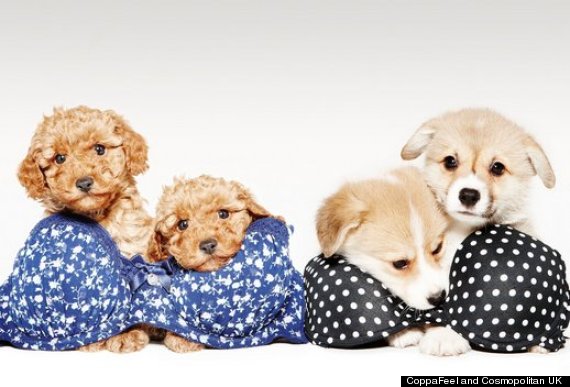 Arguably the best thing on the internet, these pups are bringing attention to breast cancer prevention, thanks to the UK edition of Cosmopolitan and London-based self-examination advocate organization CoppaFeel!. It might seem silly, but their heads (er…hands?) are in the right place: Each month, Cosmo's Facebook and Twitter followers are reminded to conduct their monthly breast exam with a photo of cute puppies in a bra. Cute animals AND breast health? We're into it.
This a cappella take on The Divinyls' 1990 classic anthem "I Touch Myself" will give you chills. After realizing her diagnosis was terminal, frontwoman Chrissy Amphlett thought this girl-power classic should be repurposed to encourage women to check their bodies for cancer. After her death in April 2013, Australian advocacy group Cancer Council New South Wales collaborated with a local group of singers to recreate this song as a means for self-examination advocacy.
3. Standup (Literally) for Awareness
We were already big fans of comedian Tig Notaro, but the way she announced her breast cancer diagnosis threw her into uncharted onstage territory. The set, which is now available on iTunes, got rave reviews for bringing a touch of humor to a very unfunny topic. From Entertainment Weekly: "…Funny, sensitive, and with a firm grasp on the fundamental absurdity of life." Not many people can turn tragedy into touching standup, but Tig Notaro definitely succeeded.
4. Turning Lemons into (Actual) Lemonade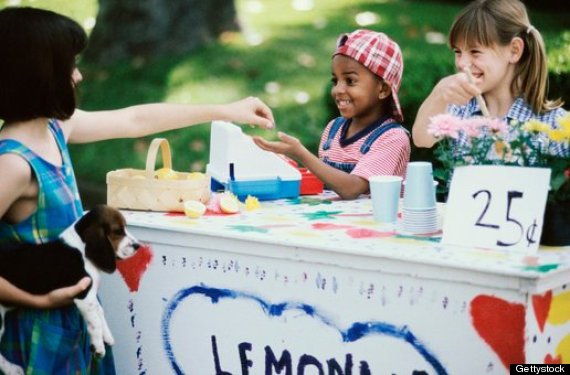 What's the only thing more refreshing than a tall glass of chilled sweetness? One served with a side of compassion. Two Texas girls took their end-of-summer lemonade stand to philanthropic heights when they used the classic kid entrepreneur model to raise funds for a local organization dedicated to helping breast cancer patients. The girls put a creative touch on the summer classic — offering customers the choice of pink lemonade (and cupcakes) to help raise awareness for the cause. How sweet is that?!
5. Stiletto Stampede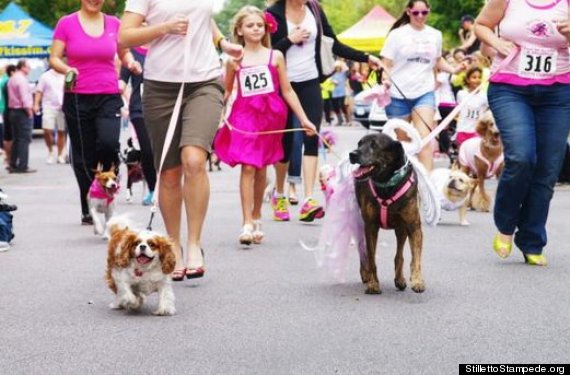 Race for the Cure events will happen in 150 cities around the world this year alone. But organizers in Austin, Texas, really kick it up a notch with "Stiletto Stampede,"their take on the annual fund-race. Now in its sixth year, participants make the 100-yard dash in high heels to help women and men better understand breast cancer and breast health.
6. Cookies for the Cause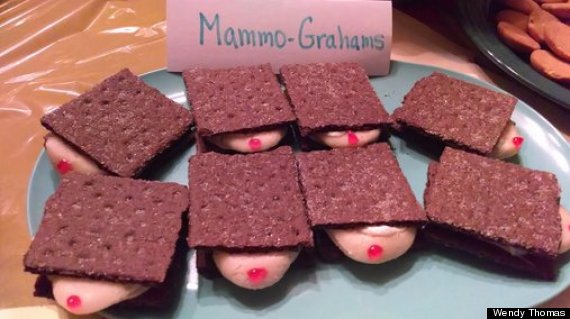 We love these "mammo-graham" cookies from blogger Wendy Thomas. Here's the recipe so you can make your own and spread awareness among your family and friends (or even the office!)
Mammo-Graham Marzipan Recipe
What you'll need:
chocolate graham crackers split in two
1 roll of marzipan
white frosting
pink frosting gel
To make the ones pictured above, Wendy used one roll of the marzipan cut into 13 pieces and warmed in the microwave for about 10 seconds. Then she says to "roll each section into a ball, and squish while molding it until you have a flat section for between the graham crackers and a bulging section that sticks out. 'Glue' the marzipan to the graham crackers with some frosting and then use the gel frosting to make the nipple."
Genius 3D mammography is available as Hologic Selenia® Dimensions® 3D system. Please consult your physician for a complete list of the benefits and risks associated with mammography.
♥♥♥
Readers: Of course, I love anything with animals and kids…and the song…well it speaks for itself. Tig Notaro interview is a fresh and wonderful mix of raw vulnerability, authenticity, and comedy – a good watch. And those Mammo Grahams are hilarious! Yes, guys, they do get smashed like that in the mammogram x-ray machine.
Are you doing anything special this month to honor our sisters that have been diagnosed with breast cancer or who are breast cancer survivors? Please share. Blog me.
FF: Thanks for taking a step forward to stop the insanity of these thugs with badges. I tried your link to write a letter myself and it isn't working.
If anyone would like to contact Ohio Governor Kasich's inbox, click here.
Burne: I can totally relate about voters voting on single issues that affect them, especially when it comes to the repubs that I know. I don't know the stats of older voters vs young voters though. I have some repub friends and I feel that they are just focusing on one or two issues and using talking points given to them. Usually it is about taxes. Ugh…So frustrating.
In my opinion and experience from the ones I do engage in a political conversation with, they're really not on top of any other issues except the one or two that is personally affecting them. And if I have to be totally honest, I don't even think they are totally informed, even on those. Most of my frustration is with women who have no idea because they live with their head in the sand living in a tiny world, too dumb, or just go into denial that their party is mostly misogynists who could care less about them.
But I hear what you're saying, Marilyn. Young voters are just not voting, and especially when it comes to midterm elections. That is where we can make a huge difference, and win this election, if we can just get the young dems to the polls, especially the women. I will be blogging on this topic soon.
Sandra: It may be foolish to think that it's going to change but it is worth the effort to get them there because the downside is, nothing will get done in the next two years unless we do. Obama got a lot of young and first time voters to the polls in 2008. Unfortunately they slacked when it came to taking it home at the midterms in 2010, but I have faith.
Lucy, ST: Sorry to hear that. You too, Irene, and anyone else having trouble.  It's the same same ol' story. Blame it on those that oppose.
Gary: I like your suggestions of being prepared for voting day.  Repubs may not be able to make it impossible to vote but they sure will try. And if you do vote, they will certainly try and switch your vote to steal the election. We have to all participate this November.
I agree with you - Obama doesn't have to be on the ballot to make an election important. But people need to realize that midterms are sometime even more important because control can change party very quickly. We saw it in 2010 when the Dems didn't show up because they were still high from the win in 2008. I am HOPEing that from what we have experienced with a loss in the House, how important the November midterms are are, and get themselves to the polls. Obama just signs legislation; he doesn't write it. As we all know from experience, with Obama as president and repubs in power, hardly anything will get done, because the repubs would rather see this country fail than a black man succeed.
I feel your frustration over the apathy of the general public. I am frustrated too. We have the right to vote and many don't exercise that right by using the power of their voice and their vote to make a difference in their own lives and the lives of others.
I just keep thinking how much Obama has done and how much more he could've done, and could do if we can just keep the Senate and get back the House. We have all put in so much effort over the years, we can't give up now.
Molly: Well said. Loved your comment.
Robert, I: I haven't seen you here in awhile. Are you around? I HOPE all is OK.
Thanks for sticking around. Peace & Love…
Lastly, greed over a great story is surfacing from my "loyal"(?) readers. With all this back and forth about who owns what, that appears on my blog, let me reiterate that all material posted on my blog becomes the sole property of my blog. If you want to reserve any proprietary rights don't post it to my blog. I will prominently display this caveat on my blog from now on to remind those who may have forgotten this notice.
Gratefully your blog host,
michelle
Aka BABE: We all know what this means by now :)
If you love my blog and my writes, please make a donation via PayPal, credit card, or e-check, please click the "Donate" button below. (Please only donations from those readers within the United States. – International readers please see my "Donate" page)
Or if you would like to send a check via snail mail, please make checks payable to "Michelle Moquin", and send to:
Michelle Moquin PO Box 29235 San Francisco, Ca. 94129
Thank you for your loyal support!
All content on this site are property of Michelle Moquin © copyright 2008-2014
"Though she be but little, she be fierce." – William Shakespeare Midsummer Night's Dream 

"

 Politics, god, Life, News, Music, Family, Personal, Travel, Random, Photography, Religion, Aliens, Art, Entertainment, Food, Books, Thoughts, Media, Culture, Love, Sex, Poetry, Prose, Friends, Technology, Humor, Health, Writing, Events, Movies, Sports, Video, Christianity, Atheist, Blogging, History, Work, Education, Business, Fashion, Barack Obama, People, Internet, Relationships, Faith, Photos, Videos, Hillary Clinton, School, Reviews, God, TV, Philosophy, Fun, Science, Environment, Design, The Page, Rants, Pictures, Church, Blog, Nature, Marketing, Television, Democrats, Parenting, Miscellaneous, Current Events, Film, Spirituality, Obama, Musings, Home, Human Rights, Society, Comedy, Me, Random Thoughts, Research, Government, Election 2008, Baseball, Opinion, Recipes, Children, Iraq, Funny, Women, Economics, America, Misc, Commentary, John McCain, Reflections, All, Celebrities, Inspiration, Lifestyle, Theology, Linux, Kids, Games, World, India, Literature, China, Ramblings, Fitness, Money, Review, War, Articles, Economy, Journal, Quotes, NBA, Crime, Anime, Islam, 2008, Stories, Prayer, Diary, Jesus, Buddha, Muslim, Israel, Europe, Links, Marriage, Fiction, American Idol, Software, Leadership, Pop culture, Rants, Video Games, Republicans, Updates, Political, Football, Healing, Blogs, Shopping, USA, Class, Matrix, Course, Work, Web 2.0, My Life, Psychology, Gay, Happiness, Advertising, Field Hockey, Hip-hop, sex, fucking, ass, Soccer, sox

"